Tuesday, February 1, 2011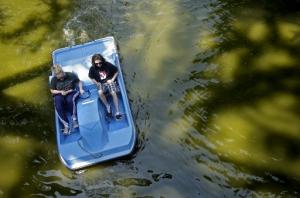 A new vendor won unanimous permission from the Board of Supervisors this afternoon to run the boat rental and food and beverage concession at the Stow Lake Boat House in Golden Gate Park.
Old boat fleet will be replaced under new Stow Lake contract.
New Mexico-based Ortega Family Enterprises, which runs the concession stand in Muir Woods, will take over the Stow Lake operation, ousting the family that has had the concession for more than 65 years.
The new concession is expected to be in place by summer, if not sooner.
Under the contract, the new vendor will pay the Recreation and Park Department at least $160,000 a year in rent, spend at least $233,000 in capital improvements to the waterfront property and replace the fleet of row and paddle boats.
The plan sparked controversy, as supporters of the longtime vendor started a well-organized, but ultimately unsuccessful, grassroots campaign to retain the character of the concession.
Rec and Park Department staff convinced supervisors that the contract with Ortega Family Enterprises, which includes plans to add a sit-down cafe and spruce up the aging building, is the best deal to generate revenue for the city and to enhance visitors' experience.
"The new concessionaire will have a bigger menu, a new fleet of boats and we're preserving the Boat House for the next generation," an elated Rec and Park chief, Phil Ginsburg, said after the vote.
News Source: San Francisco Chronicle
More info: www.sfgate.com…