Saturday, December 11, 2010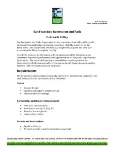 The San Recreation and Park Department strives to provide clean, safe and fun parks and quality recreational programming, regardless of ability to pay, for all San Franciscans. The Department oversees 225 neighborhood parks and over 100 recreational facilities throughout the City.
In order to best execute this mission, the Commission and the Department are committed to providing information and opportunities for the public to participate in decisions. The intent of this policy is to establish a baseline protocol for dissemination of information and to encourage early and frequent communication between staff, the Commission and the public.
For comments and suggestions, please email rpdinfo@sfgov.org
More info: sfrecpark.org…