Herbst Theatre
401 Van Ness Ave
San Francisco, California 94102
Saturday, November 27, 2010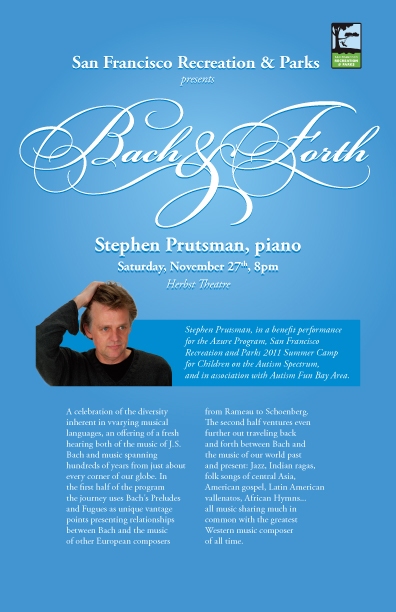 Pianist Stephen Prutsman performs live in a benefit concert for the Azure Program, San Francisco Recreation and Parks' 2011 Summer Camp for Children on the Autism Spectrum, in association with Autism Fun Bay Area.
Saturday, November 27, 2010 at 8:00 PM
Herbst Theatre – San Francisco
This program is a celebration of the diversity inherent in varying musical languages, and also offers a fresh hearing both of the music of J.S. Bach and in music of an eclectic selection of composers spanning hundreds of years from just about every corner of our globe. In the first half of the program the journey uses Bach's Preludes and Fugues as unique vantage points presenting relationships between Bach and the music of other European composers from Rameau to Schoenberg. The second half ventures even further out traveling back and forth between Bach and the music of our world past and present: Jazz, Indian ragas, folk songs of central Asia, American gospel, Latin American vallenatos, African Hymns… all music sharing much in common with the greatest Western music composer of all time.
Tickets may be purchased at www.cityboxoffice.com
More info: www.chambermusicsociety.org